Constitutional Advocacy, LLC
Teaching or Practicing Constitutional Law Since 1973
John William Simon taught constitutional law and related subjects from 1973 to 1982. He has practiced constitutional litigation from 1985 through the present. In 2008, he formed the firm Constitutional Advocacy, LLC.
Scope of the Firm's Practice
Constitutional Advocacy, LLC, is focused on the assertion of constitutional rights and other human rights by individuals, private entities, and constituent political subdivisions, and on the teaching of constitutional values, especially to enable new immigrants to receive citizenship and to enjoy the rights our country offers them.
Typical cases for the firm include state and federal direct appeals, civil rights actions under 42 U.S.C. § 1983, state and federal post-conviction relief motions (under Mo. S. Ct. R. 24.035 & 29.15 or 28 U.S.C. § 2255), federal and state habeas corpus petitions, probation and parole advocacy, executive clemency applications (federal and state), and other representation before judicial and administrative tribunals and testimony before legislative committees.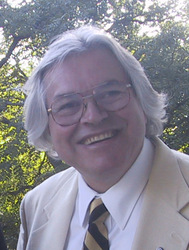 John William Simon, J.D., Ph.D.
7201 Delmar Blvd. # 201
Saint Louis, Missouri 63130-4106
(314) 604-6982
FAX (314) 754-9083
Contacting John William Simon
Please keep in mind that the Office of Chief Disciplinary Counsel requires all lawyers to notify all recipients of e-mail that: (1) e-mail communication is not a secure method of communication; (2) any e-mail that is sent between you and this law office may be copied and held by various computers it passes through as it is transmitted; (3) persons not participating in our communication may intercept our communications by improperly accessing your computer(s) or this office's computers or even some computer unconnected to either of us that this e-mail passes through.
We will replying to you via e-mail because your e-mailing us has invited us to contact you in the same medium. If you change your mind and want future communications to be sent in a different fashion, please advise us at once.
Use of this Web site does not create an attorney-client relationship.
To contact John William Simon by e-mail, please use the following address:
Location
Effective April 23, 2012, Constitutional Advocacy LLC's office is in the Tudor building pictured in the right-hand column of this page. It is at the corner of Delmar and Midland, less than a mile west of the University City Loop. The entrance to Constitutional Advocacy LLC's suite (# 201) is on the east side of the building. There is ample off-street parking. The building is on MetroBus Route 97, which runs between the Delmar Loop and Clayton MetroLink stations.